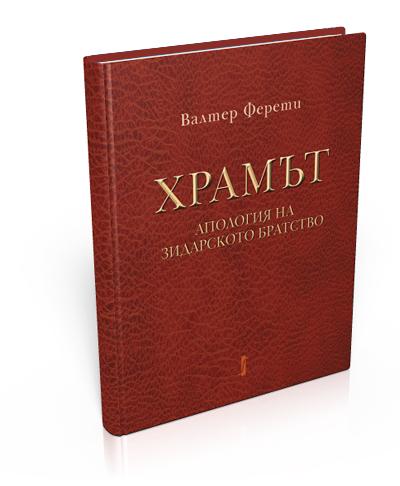 The Temple of Humanity
ISBN: 978-954-400-046-8
Product is not available.
An Apology of the Masonic Brotherhood
This book is trying to enter the Temple through the semi-dusk of the centuries.
It examines the signs of the Temple under the whispers of legends. Amidst the magical noise rising from the pages of ancient manuscripts. Amidst the Babylonian mayhem of thousands of books.
It wants to understand, but also to glorify, the Temple as one of the key symbols of humanity.
Following the Cabalistic tradition of magical numerical relations, this book consists of seven parts and "a half". We count as "a half" the words of the introduction and the brief words of conclusion.
As is well known, the building of King Solomon's Temple lasted for seven and a half years; it started in the second month of Ziv and ended in the eighth month of Bul.
The book's text contains approximately eighty thousand symbols. This number has been chosen as a gesture of reverence and remembrance of the mythical eighty thousand stonemasons who diligently worked in the mountains in order to erect to Heavens the Temple of wise King Solomon.
Only a man with brains as vast as "the sands of the seashore" has the power to gather thousands of builders and to make them part of eternity.
We believe that behind every graphic sign in the visible world there stands an invisible mythical stonemason.
He stands in order to help us with the building.
He stands in order to make the Temple even brighter.
"The Temple of Humanity" in English.
| | |
| --- | --- |
| Genre | History / Archaeology, Sociology / Politology |
| Size | 14,5 х 20 cm |
| Pages | 128 pages |
| Cover | hard cover |
| Language | Bulgarian |